Professional Pet Room & Groom – About
A little about the owner and business…
Hi, I am Pearl Johnstone and I first decided to pursue a career in pet grooming back in 1989. After grooming dogs and cats for several years in several salons, I began instructing other groomers on the techniques used to achieve the finest clips for their clients. Believing in excellence, I decided to pursue and ultimately was awarded my certification as a "Nationally Certified Master Groomer" and am proud to say that I was the only the fourth groomer in the state of Nevada to achieve this level of certification.
My desire to continue learning more about animal health and care never seemed to subside, so my next area of study was animal skin and insect problems, where I received certification as a "Companion Animal Hygienist".
Although instructing other groomers and excelling in grooming competitions was very satisfying, I realized that what I really wanted to do was open my own grooming shop and begin providing a level of service and expertise in the grooming field that I hadn't been able to find at other pet grooming salons. So in 1996, I was immensely proud to open my very own shop in Boulder City, Nevada, then called Professional Pet Grooming.
Combining my passion for learning with a growing interest in photography, I took a photography course at Southern Nevada Community College. Naturally, my love of animals quickly led me to open a photo studio within my grooming shop and amended the business name to Professional Pet Portraits & Grooming.
Running a successful business kept me busy for several years, during which I also obtained my "Small Animal Massage Provider" certification.
However, I eventually determined that the Boulder City area lacked a high-quality boarding facility. Since Las Vegas and Boulder City in particular are such popular tourist destinations…opening a boarding facility became a new dream of mine.
After a four year long process of adding space to my existing shop, seeking government approvals and acquiring the necessary licenses and permits, I finally received all of the necessary approvals to open my boarding facility in November 2009.
Feeling the need to focus on my grooming business and only one other service, I made the hard decision to choose boarding over the photo studio, primarily because high quality animal boarding would provide a greater benefit to my existing clients and the Boulder City, Henderson, Las Vegas and tourist community.
Now after many years of providing high quality care to the pets of our community and several rounds of business expansion, we have once again amended our business name to Professional Pet Room & Groom. As far as continued certification, I have became a "Certified Pet Care Technician" – which is a level of certification I strongly feel every pet boarding facility should have.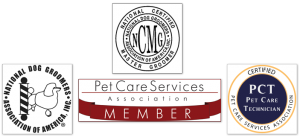 In 2016 we added a new service call Thera-Clean, a top of the line skin and coat care, with microbubbles & enzymes. Take a look at our Thera-CleanPage.
I hope you have enjoyed the history behind Professional Pet Room and Groom and will consider allowing us to care for your dog and cat grooming and boarding needs.
Take a Virural Tour of our business