Professional Pet Room & Groom – Dog Boarding
Our Dog Boarding Facility & Services:

We are proud of our Dog Boarding Facility and welcome anyone to take a tour, anytime during normal business hours. We do require an appointment for tours. Friday- Tuesday are are normal work days. Wednesday & Thursday boarding drop off and pick is by appointment only. We do require shot records for all pets to be boarded. We request that you have your pet's shots updated, if needed, at least one week in advance of boarding with us.We prefer reservations be made in advance. When we have space available, we can take your pet on a walk-in basis.We have 6 each 4' x 8' dog runs, 3 each 4' x 6' dog runs and 8 each 4′ x 4′ dog runs.  Each of these runs has removable plastic flooring that keeps the dogs raised off the concrete floor.  This helps keep the dogs warm and provides someplace for moisture to go if they have an accident.  In the event of an accident, we move the dogs, then clean and dry the floor and flooring, before putting the dogs back in the run.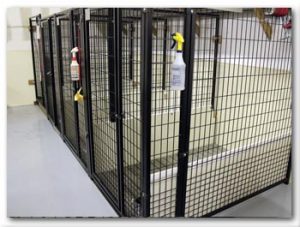 To prevent accidents, and for the dogs comfort and wellbeing, we walk the dogs twice per day.  If we have a new dog that is not familiar with boarding we make an evening visit and take them out to help them with the transition.  We will walk the dogs as soon as we open in the morning.  We walk the dogs again before going home at closing time.Our facility is an indoor facility, and we have an indoor potty run for the small dogs.  We sanitize it at least once a week.  We encourage all the small dogs to use it, but if they don't, we will walk them outside.
We do not have anyone stay with the dogs at night.  We feel this might disturb the dogs and interrupt their down time.  We turn off the overhead lights, and turn on night lights for bed time comfort.  We leave a radio on at all times for the dogs.
We have heating and cooling for the facility.  We try to keep the temperature approximately 65F – 70F during the winter and 70F – 75F during the summer.
When you bring your dog to stay with us, you are welcome to visit, to check on the comfort of your dog, or take your dog for a walk.
We try to reduce the stress for the dogs, and like to keep them on your feeding schedule.  Bring the food and treats they are accustomed to and tell us what their feeding schedule is.  We also ask that you bring any bedding and/or toys to make them feel more at home.  We try to keep a clean facility and ask that you only bring things that can be laundered in a normal washing machine. Please no feather filled bedding.
Bring in your dog's dishes for food and water, as long as they are not breakable or we have a variety of stainless steel dishes for your dog to use.  We have reverse osmoses water for all to drink.
DOG BOARDING PRICES
TYPE & SIZE OF PET

DAY SITTING

SINGLE PET
PER NIGHT

MULTIPLE PET
PER NIGHT
(10% DISCOUNT)

Small Dog

$10.00

$20.00

$18.00 per pet

Medium Dog

$12.50

$25.00

$22.50 per pet

Large Dog

$14.00

$28.00

$25.20 per pet

Extra Large Dog

$15.00

$30.00

$27.00 per pet

2x Large Dog

$17.50

$35.00

$31.50 per pet
LONG TERM BOARDING DISCOUNT
| SINGLE PET | 2-3 PETS IN SAME RUN OR CONDO |
| --- | --- |
| | Up to 6 Nights = 10% Discount |
| 7-13 Nights = 5% Discount | 7 -13 Nights = 15% Discount |
| 14-20 Nights = 10% Discount | 14-20 Nights = 20% Discount |
| 21 Nights or More = 15% Discount | 21 Nights or More = 25% Discount |
Handling fees will apply for difficult dogs and will, in effect, cancel any discounts.

The time of day pets are dropped off will be the check-out time. If they are left past this time, there will be a Day sitting charge added.

Food must be supplied, including an extra day of food. All containers must have lids to avoid spillage. Food may be portioned into Ziploc bags.

Bedding must be easy to launder and fit in a regular size washer. Feather fill is not allowed. Nothing breakable can be left with your pet.

There will be a medication administration charge of $2 per administration.
Take a Virural Tour of our business