Professional Pet Room & Groom – Pet Grooming Services
Dog Grooming Services:
At Professional Pet Room and Groom, we have been providing expert dog grooming cuts for all breeds, including puppy clips and hand scissor clips since 1996, although our dog grooming experience dates back as far as 1989.
Pearl Johnstone, a Nationally Certified Master Groomer, both supervises the on-staff groomers and personally grooms her clients' dogs with tender loving care and patience without the use of sedation or anesthesia. 
Our standard dog grooming services include:
A consultation with your groomer when you arrive
A pre-bath with Thera-Clean if warranted
Bathing your dog
A hand-held blow dry
A sanitary cut
Teeth brushing
Nail trimming
Ear cleaning
Anal glands expression
A full Professional Groom
We never cage dry with heat. Instead, we use fans to dry using ambient room temperature and natural low humidity in our facility for the comfort of your pet. Fluff drying is used mostly for the best look for your dog.
Our grooming rates are dependent on the breed and size of your pet, the condition of his or her coat and your pet's disposition, but we have provided our standard price list below for your convenience.
Due to the level of care and high quality grooming services we have provided the Boulder City community for well over a decade now, we are proud to have a loyal client list that keeps our appointment book well-scheduled. Therefore, we highly recommend appointments, although we will certainly take walk-ins when our appointment schedule permits. Reservations for both dog and cat grooming can be made by calling us at (702) 294-3111.
Home grooming is very important in between professional grooms. When bathing your pet, be sure that all knots are brushed or combed out. Please keep in mind that if your pet is severely matted, we will need to cut his or her hair short, as extensive dematting is painful, bordering on torturous, for your dog.
It is also very important to keep your dog's nails short and they should be routinely checked between groomings. If left to grow too long, nails can not only pierce the pads of your dog's feet, but your dog can develop arthritis from having to adjust his walk to avoid the pain brought on by overgrown nails. Play with your dog's paws often to get him used to having his feet handled, which makes it that much easier for you to check them often and for us to trim them during grooming.

Professional Pet Room & Groom – Pet Grooming Services
Cat Grooming Services:
We also began grooming cats in 1989, so we have more than two decades of experience keeping our feline friends clean and stylish. If your mischievous kitty has managed to get into something smelly, hasn't seen a comb in awhile or just needs a good shave, Lion cut or just a brush and bath, Professional Pet Room and Groom can help. It is not our practice to use anesthesia on cats that exceed the definition of uncooperative, however, we are located next to a veterinary practice who, with your consent and at your instruction, can sedate your cat from grooming.
Owners of short-haired cats know that their cats shed just as much…if not more than long-haired breeds. Although cats themselves are very good groomers, sometimes they need some help, especially older and overweight cats who may have lost the ability to groom themselves effectively.
Brushing and combing your cat regularly can also reduce those unpleasant hairballs caused by the cat swallowing hair during their self-grooming process. Long-haired cats can get tangles that when left alone; become tight, painful matts that are very difficult to remove.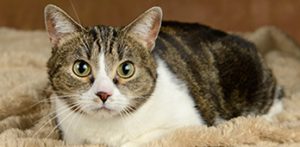 If you acquire a new kitten, be sure to start conditioning her to the grooming process early. While it's likely not necessary to groom your kitten this early, beginning to brush them from an early age helps get them accustomed to the grooming process. You will find that they also come to enjoy the extra attention they are receiving. Then, when they're older and in need of grooming, you'll find them much more accepting of the daily routine or visit to the groomers.
As with our dog grooming services, we highly recommend setting an appointment to have your cat groomed, although we will accept walk-ins when our appointment schedule permits. Similarly, our grooming rates are dependent on the breed and special needs of your cat, the condition of his or her coat and disposition. We are able to handle most cats without anesthesia. Cats that we cannot handle, approximately 1%, will need to be taken to a veterinarian for grooming.
PET GROOMING PRICES
| PET SIZE | FULL GROOM | BATH & BRUSH |
| --- | --- | --- |
| | | |
| Extra Small & Small Dogs * | | |
| | | |
| | | |
| | | |
* Depending on matting, length of coat and/or difficulty of animal.
Take a Virural Tour of our business